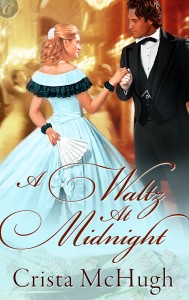 New York, 1866
When her mistress receives an utterly unromantic letter from a potential suitor, servant Susanna Parkwell is asked to craft an appropriate response. Though hesitant to take part in the deception, Susanna agrees, never dreaming the scorned suitor will write back.
Theodore Blakely abhors being pressured by his family to marry, but he's intrigued by the witty refusal he receives from "Charlotte". After exchanging more letters, Ted believes he's found a soul mate in his thoughtful and understanding correspondent, and asks permission to formally court her.
Though racked with guilt over her lies, Susanna can't resist the opportunity to meet Ted in person. So she poses as Charlotte at a holiday ball, where she vows to tell him the truth. But when the clock strikes midnight, will Susanna have the courage to reveal her identity and risk losing the man she loves?
Available now at Apple Books, Barnes and Noble, Kobo, Amazon
, Google Play, and Powells.
Reviews
From The Library Journal:
"This is a surprisingly light romance from writer McHugh, better known for her paranormal and fantasy tales (e.g., The Tears of Elios). A Waltz at Midnight is a small-sized treat; it is a quick read but one sure to please any historical romance reader."
From The Romance Reviews:
"I love this story! I didn't expect it to be so entrancing and captivating… A WALTZ AT MIDNIGHT is a great romantic story with engaging characters that I didn't wish to end… A must read for romance lovers!" — 5 stars and a TOP PICK
From Joyfully Reviewed:
"I could read this over and over! I cannot get enough of both Susanna and Teddy's letters to each other. I've never before experienced this kind of passion being expressed through letters. I completely fell in love with this couple and Ms. McHugh's writing while reading A Waltz at Midnight and I highly recommend that you grab a copy today you won't be disappointed by this delightful read!"
From Book Babe:
"What a lovely read. It was short, but I feel it was the perfect length for what it was: a historical romance began through letters, involving deceit, high emotions, the baring of souls, and secrets." — 5 stars
From A Whole Latte Romance:
"What can I say about this Short Historical Romance other than I absolutely loved it. Seriously. The story, even in it's shortness, did not feel rushed or incomplete at all to me. Rather, it was a very satisfying and emotional read." — 5/5 lattes
From Romance Reader at Heart's Novel Thoughts and Ponderings:
"A WALTZ AT MIDNIGHT a must read!… I'm definitely following McHugh in the future, as she's an author to watch."
From The Historical Romance Critic:
"A Waltz at Midnight is a beautifully sweet (and perfectly clean) post-Civil War romance… All-in-all, it was a feel-good romance novella that had a respectful level of realism for a book set in the era of the Civil War." — 5 stars
From The Romancaholic:
"This was a very sweet, incredibly romantic novella, and I absolutely adored it.  While not a sensual romance, the emotion that developed over the course of this love story more than made up for any lack of steam in my opinion." — 4.5/5 stars
From Manga Manic Cafe:
"I loved this read and gobbled it up in one sitting." — B+
From Tracy's Place:
"This was a great little novella that I just loved reading… I have to say that I'm a sucker for epistolary novels and this was a good one." — 4/5 stars
From Rise of the Slush:
"Overall, A Waltz at Midnight is endearing, and speaks to the little girl inside every woman that's looking for her prince to ride in on the white horse."–4/5 stars
From When Pen Met Paper:
"If you're looking for a quick, light read with all the magic of a Cinderella story in a historic post- Civil war era, then look no farther than A Waltz at Midnight… Although short, this story packed a strong emotional punch." — 4/5 roses
From Yahoo Book Reviews:
"Chaste and heated, A Waltz at Midnight by Crista McHugh dares to evoke girls to dream… McHugh crafts a budding romance based on the intellectual rapport and emotional connection that evolves between two strangers who embark on corresponding with each other, inviting them to open up in ways they've never imagined they could."
From From Me to You:
"This is a short story that seemed to be a clever mix of Disney's Cinderella and Lisa Kleypas's Love in the Afternoon."
From Bailey's Books:
"…well written and full of emotion and very sweet to read. I would recommend this book to anyone who would enjoy a short sweet love story."
From Good Choice Reading:
"I loved the interaction between Suzanna and Teddy as you read their letters to each other. I found I was looking forward to what the next letter held as much as the characters did."
From All About Romance:
"The story was poignant and touching. Short and sweet fits the bill here."
Want to see more? Check out all of the reviews on Goodreads.