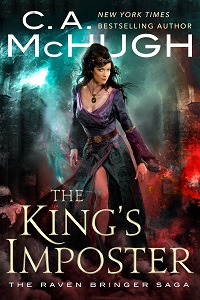 The Raven Bringer Saga, Book 2
To defeat his enemy, he needs to question everyone around him.
After barely escaping an assassination attempt by a demon, fifteen year old King Aerrin's worst nightmare has come true. The Raven Bringer has returned, and he's the fiend's top target. But the people of Elgeus refuse to believe the man who'd tormented the kingdom years ago has returned from the dead, and the list of those Aerrin can trust is growing smaller and smaller.
To catch the elusive Raven Bringer, Aerrin needs to rely on a group of individuals who appear to be every bit as dangerous as the demon king trying to kill him. A secretive master mage with his own agenda. A disgraced knight whom many still believe is the fiend. A semi-reformed thief who holds dangerous connections with the kingdom's underground world. And a mysterious new student at the Academy of Arcane Magic who triggers every warning bell in his system.
Seroney Meritis is more than she pretends to be, and the closer Aerrin comes to uncovering the truth about her, the more danger they are both in.
Available at iBooks, Amazon, B&N, Kobo, and Google Play.