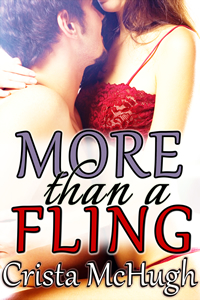 When Danni's friends take her to a bar to cheer her up after getting dumped, she is instantly attracted to a handsome stranger named Ryan. One night of passion helps her rebound from heartache, but will she have the confidence to turn a one night stand into something more than just a fling?
Previously titled, "Danni's Boy", this version has been edited and re-released as a free read.
Available for download at Smashwords, Kobo, ARe, B&N, and Amazon.
Reviews for "Danni's Boy":
From "You Gotta Read Reviews":
"What I enjoyed most about this short story is the fact the main characters, Danni and Ryan, actually have some substance to them… For all you readers wanting a Prince Charming in your life, check out this story. It is highly entertaining and fun. I look forward to reading more from this author, Crista McHugh, in the future." — Roberta, "You Need To Read" rating
From Night Owl Romance:
"Fun and sexy… It was a quick read and I wish hadn't ended so fast… Ms. McHugh does a good job showing both characters points of view and makes you want to see things work out for them in the end." — Rita, 4.25/5 hearts
From Whipped Cream Reviews:
"What I liked most about this short story is the fact the main characters, Danni and Ryan, are "real" people… It was refreshing to read about everyday characters that most if not all readers can relate to on some level… It is highly engaging and enjoyable. Do yourself a favor and pick up this character-driven romance. You'll understand why Danni falls in love with Ryan, because I bet you fall in love with him, too! I look forward to reading more from this author in the future." — Cherokee Rose, 5/5 cherries