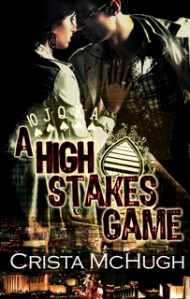 "A High Stakes Game"
A Tale of the Kavanaugh Foundation
Espe enjoys the naughty games of hide-and-seek she plays with Greg. Not only does he satisfy her kink for having sex in public places along the Las Vegas Strip, but he also is a no-strings attached lover. Vampire hunters are strictly forbidden from forming serious relationships, so when Greg asks for something more, she's not sure if she can break his heart, especially since the thought has crossed her mind more than she cares to admit. Before she can give him an answer, their liaison is interrupted by a vampire, and Espe is forced to choose between her dreams and her desires.
This is a short story that takes place between books 1 and 3 of the Kavanaugh Foundation series.
Available for download from All Romance Ebooks (free), Smashwords (free), Kobo (free),  Amazon (free), Barnes and Noble (free).
Or, read it online here for free.
From Ben's Book Reviews:
"a lively story with plenty of vivid imagery and cleverly written prose… Even though it is a short story, the writer manages to give the reader an emotional connection to the characters."