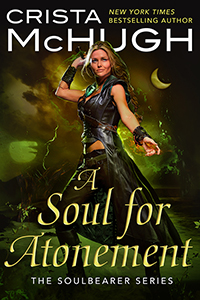 The Soulbearer Series, Book 4
Arden Soulbearer has fought a god, defeated a necromancer, and driven enemy invaders out of her homeland. Now, the only reward she desires is to marry the man who's been by her side through it all–her knight protector, Dev. But with her happy ending almost in reach, an ancient crime returns to haunt them… and the punishment is Dev's death.
A century ago, a Soulbearer stole a sacred relic from the Ornathians, and now their king demands a sacrifice of Dev's blood to lift the blight cursing his people. Arden's only hope to free Dev from the king's prison is to find the relic. But first, she must outwit the one person who knows where the relic is—-Loku, the God of Chaos whose soul resides within her.
Available at Amazon, iBooks, Barnes & Noble, Kobo, Google Play