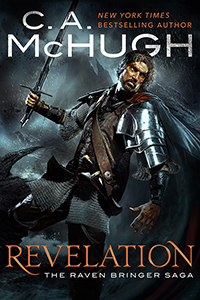 The Raven Bringer Saga, Book 3
Sir Ceryst of Klone lost everything the day the Raven Bringer assassinated the former king and queen. His title. His honor. His freedom. His best friend.
After spending fifteen years hiding in the shadows, he finally has his chance at redemption, although not in the way he had hoped. The Raven Bringer has returned, and just like before, he's targeting the young king. Still bound by the oath he swore to protect the royal family with his life, Ceryst is willing to sacrifice everything he has left to save Aerrin from the same fate. Even if it means fighting alongside a girl who's deceiving the king.
Aerrin has just begun to unravel the mystery of Seroney Meritus. Each new revelation forces him to question his trust in her. There is one thing he knows to be true, though. He needs her help if wants to have any hope of defeating the Raven Bringer. But will Seroney's final secret destroy everything?
And when the Raven Bringer finally strikes, who will be there to fight alongside him?
Availble at iBooks, Amazon, B&N, Kobo, and Google Play.