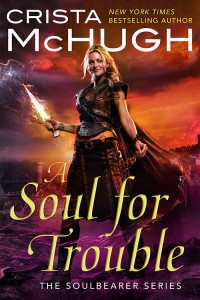 Book 1 of the Soulbearer Series
When you're a witch named Trouble, chaos follows.
Arden Lesstymine (known to everyone as Trouble) likes attention as much as the next girl, but this is getting ridiculous. When an insane stranger is murdered at the inn where she works, Trouble becomes the next Soulbearer for the disembodied god of chaos, Loku. Yes, it comes with the ability to channel the god's limitless power, but at the cost of her sanity — literally. Now she has a sexy but cynical knight claiming to be her protector, a prince trying to seduce her to his cause (and his bed), and a snarky chaos god who offers a play-by-play commentary on it all, whether she wants to hear it or not. To make matters worse, a necromancer wants to capture the soul of Loku for his own dark purposes, and the only way he can get it is by killing her first.
A Soul For Trouble is available in Print and Ebook from the following sites:
Print: Barnes and Noble, Amazon
, and Create Space
Ebook: iBooks, Barnes and Noble, Google Play, Kobo, and Amazon
Reviews
From RT Book Reviews:
"Book one in the Soulbearer trilogy, this fantastical romance is completely different from the myriad of others out there. It's a great book that pits Trouble against Chaos — two characters that all readers will want to visit again and again!" — 4 1/2 STARS
From Reviewer Angel Graham:
"This fast paced story will keep you on your toes, turning pages, cheering the good guys, booing the bad guys and pondering which category  Loku, the God of Chaos fits.  Wondering who will claim the love of Trouble" — 5/5 STARS
From Booked Up Reviews:
"I was drawn in to this book from the opening scene… I love these characters and I think it's going to be a great series….I can't wait to find out what happens next. I hope isn't too long of a wait until we get the next book in this magical series." — 5/5 STARS
From Starry Night Reviews:
"This is one of the best Fantasy books I've read this year!"
From Underworld Love Addiction:
"This was a very unique story with some great characters… I thoroughly enjoyed this story as well and can't wait for the sequel.  I say that so calmly now.  I may possibly have had a slightly larger reaction to realizing I was at the end of the book and would now have to wait months to find out what happens next. I highly recommend this story" — 4.5 STARS
From Night Owl Reviews:
"I really liked this book… once Arden and Dev started their journey, it was fast-paced all the way until the end…  I loved reading about the adventures of Arden and Dev. I can't wait to see where the story goes from here." — 4.5/5 stars, Top Pick!
From Pure Textuality:
"If you love a good fantasy novel with a touch of romance then give this a read. It will not disappoint." 4.5/5 stars
From My Book Addiction Reviews:
"A SOUL FOR TROUBLE is a fun book and an easy read… I shared Trouble's frustration with her too honorable, sexy knight; knew her confusion about the prince's intentions and affections; and felt her fear over facing an unbelievably strong foe with an army of undead soldiers. The book left me anxious to see what happens next!" — 4/5 Stars
From Fantastical Reads:
"I loved it!  I ended up reading it in a day, I couldn't put it down.  The concept is very interesting, and the book is filled with humor, intrigue, danger, and a dash of romance and tension thrown in for fun." — 4/5 stars
From The Romancaholic:
"Ms. McHugh has created a fascinating world full of magic, adventure,  close calls, betrayals, and a fairly large mystery involving the heroine's own history. Throw in a sexy elf, a seductive prince, a snarky god of chaos, and even zombies, and how could I not like this?" – 4/5 Stars
From Books We Adore:
"Ms. McHugh did a wonderful job on this book! The writing is excellent and the book is fast paced and keeps the reader on edge the whole time!… I can't wait for the next book of this series to come!"
From The Book Whisperer:
"I was a little hesitant about reading this book for no particular reason… but I gave it a shot.  I am SO glad that I did.  McHugh did a wonderful job drawing me in to the book within the first few pages"
From Magic in the Stacks:
"This is another great story by Crista McHugh and the second book, A Soul for Chaos, is out now and I need to get it soon." — 5/5
From Book-Marks the Spot:
"It had plenty of magic, mayhem, romance, fire wolves, and lots of sarcasm. Also, do not underestimate the steaminess of this book. I mean… zing! This is seriously my favorite book of this year. I lent it to Tiffany and she said it was one of her favorites, too. So.. GO. READ" — 4.5/5
Awards
FIRST PLACE, Yellow Rose RWA's 2012 Winter Rose Contest, Paranormal Category, Published Division
FIRST PLACE, Greater Seattle RWA's 2009 Emerald City Opener Contest, Paranormal Category
FIRST PLACE, Yellow Rose RWA's 2010 Winter Rose Contest, Paranormal Category, Unpublished Division
THIRD PLACE, 2013 Silken Sands Self-Published Star Contest, Paranormal Cateogry
THIRD PLACE, RWA FF&P chapter's 2009  On the Far Side Contest, Fantasy Category
THIRD PLACE, OVRWA's 2009 Enchanted Words Contest, Paranormal Category
FINALIST, WisRWA's 2013 Write Touch Readers' Award, FF&P Category
Finalist, EPIC's 2012 Ebook Awards, Fantasy Romance Category
Finalist, 2012 Reader's Crown Award, SF/Fantasy/Time-Travel Category
WINNER, Miss Snark's First Victim's August Query Letter Contest