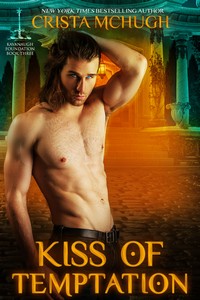 Book 3 of the Derwydd Foundation Series
She was sent to make him burn…
The Kavanaugh Foundation, Book 3
It takes a witch to outwit another witch, so when Daniela finds herself in the catacombs of Rome intent on retrieving the legendary Staff of Octavius, she's prepared to wield her innate fire magic to claim the staff and keep it—and its overwhelming power—from getting into the wrong hands.
All her Foundation training, however, never prepared her for Luc.
One breath of her scent is enough to reawaken a thirst Luc hasn't felt in six hundred years. It's enough to make him almost forget his vow to keep the staff out of the wrong hands—and to never give in to his bloodlust. The moment he touches Daniela, the last shreds of his humanity revive with a violent fury and drive him to claim her…blood, body and soul.
He's her enemy. He's arrogant and infuriatingly secretive. And his kiss makes her want things she shouldn't—like abandoning her mission to spend eternity in his arms. Crossing that line, though, could not only send them up in flames…it could condemn all mankind to hell on earth.
Product Warnings
Contains a smolderingly hot (literally!) witch, a sexy, brooding vampire, wild sex you want to sink your teeth into, and a sensually charged romance that spans several lifetimes.
Also available at iBooks, Amazon
, Barnes and Noble, Kobo, and Google Play.
Reviews
From Literary Nymphs:
"This is the third book in The Kavanaugh Foundation series, and I found myself enjoying every moment of reading the story… As Ms. McHugh moves on with her writing of The Kavanaugh Foundation, I found this story even more spell bounding than first two books.  I am looking forward to reading the next book in the series." — Goddess Minx, 4 Nymphs
From I Smell Sheep:
"The sexual tension between Daniela and the ex-priest (oh yeah) Luc is well done. I love this type of alpha-male: all arrogant and strong, but a mush ball in the presence of his mate. If you are looking for a quick vampire PNR fix, then give this one a try." — Sharon
From Coffee Time Romance:
"Kiss of Temptation is a solid book with captivating characters with twists and turn on every page. I would recommend this tempting tale to paranormal fans." — Delane