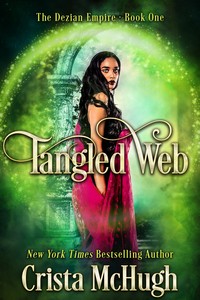 The Deizian Empire, Book 1
The deadliest assassin in the empire just got too close to her target…
Azurha, an assassin known as the Rabbit, has just been offered the ultimate challenge—seduce, then murder the new Emperor. But Titus is not the tyrant his forefathers were, and his radical ideas might be the glimmer of hope the empire needs.
More than just Titus' ideas hold Azurha captive. Night after night, he awakens desires she thought lost, and uncovers the magic of her hidden lineage. As her deadline approaches, Azurha is forced to make an impossible decision—complete her job by killing the man she loves, or fail and forfeit both their lives.
Revised and Re-released at a new, low price!
Available at Amazon, iBooks, B&N, Kobo, and Google Play.
"The chemistry between Azurha and Titus burns up the pages and kept me reading into the night. This is the single hottest book I've read all year!" — NEW YORK TIMES and USA TODAY Bestselling Author Katee Robert
Reviews
"Much more than an ordinary sci-fi novel, book one of The Deizian Empire is a story of war, survival, and love. From the beginning, McHugh shows us how strong the connection between the hero and heroine is, and their hunger for each other is insatiable. Easily read in a single sitting, this spellbinding tale will be welcomed with open arms by readers, who will thank the gods there is a sequel." — 4 Stars, RT Book Reviews
"The book is so hot it will leave you breathless as Titus and Azurha burn the sheets, but it will make you sigh over the emotion that comes from them both." — Annetta Sweetko, Fresh Fiction
"Crista McHugh's Tangled Web is sinfully delicious! This erotic feast features one fascinating couple and a killer plotline.  It's impossible to turn away from this story after reading the first few pages!…  Tangled Web is a keeper!" — Recommended Read, Joyfully Reviewed
"Tangled Web was an action-packed adventure with a beautiful female assassin and a romantic love story that brought me to tears by its conclusion." — 5/5 stars, Book-N-Kisses
"I thought I was there with Azurha. I felt pain, frustration and fear… And from the first chapter Azurha demonstrated to me how strong she was. I was picturing a mature Arya from Game of Thrones, awesome!" — 5/5 Flames, Fire Star Books
"Tangled Web had me enthralled from the very first sentence…. This book was good from the first word until the last.  Actually, it was great.  I keep trying to come up with the words to describe it, and all that keeps going through my mind is "oh my sweet Jesus!!"!!  LOL!!!  It was a page-turner from the word go.  The chemistry between Azurha and Titus was amazing." — The Reading Cafe
"I loved it! It left me craving for more about the Deizian Empire (this is the first book of the series Deizian Empire) and I can't wait to know who's going to be featured in the next book." 5/5 couples, Confessions from Romaholics
"I've read other books by McHugh and always enjoyed them but this was my favorite, so far.  I love the world she creates – a merger of magic, Romanesque time frames, paranormal other-worldliness with a hint of steampunk-like technology.  Her characters are wonderfully likable and yet edgy." — 4.5 Stars, My Book Addiction Reviews
"Grab your poison tipped arrows and flying airships, because you're in for one smexy ride!" 4/5 Sheep, I Smell Sheep
"This one intriguing sci-fi-ish novel will keep you tangled in its web until the very end! It's like an alien-type of ancient Rome mixed with the political agendas of the "Game of Thrones" which is what creates the backdrop for this fascinating new series!!" — 4/5 Stars, From Me To You
"Tangled Web was very appropriately named.  There are so many obstacles that the protagonists must overcome if they have any chance of being together.  It was very fast paced with tons of suspense, especially in the second half." — 4/5 Stars, Underworld Love Addiction
"a fast paced book, with the focus on romance, but also room for a solid story and world building. I really enjoyed it and am looking forward to reading more books from this author!" — 4/5, K-Books
"Tangled Web was a very pleasant surprise. I don't know what I expected when I decided to read it but I was fascinated by the interesting mix of a Roman-like Empire set in a fantasy world plus the unusual role reversal where the hero is the bookish one that needs protection while the heroine is the muscle." — B+, Bad Ass Book Reviews
"I sort of devoured this book… this is one I really did not want to put down. It mixed my love of Ancient Rome with my love of intriguing plot lines and romantic relationships I really want to see succeed." — Magic in the Stacks
"
One of the best books I've read this year! I haven't found many books this year that caused me to have a headache for reading too much. I found that this book was so good, I just couldn't put it down, despite my eyes being so tired… Overall, I think Crista McHugh just earned her spot in my favorite authors list.
I most definitely recommend adding this book in your MUST-READ list.
" —
Provocative Pages
Awards
FIRST PLACE, NECRWA's 2013 Reader's Choice Bean Pot Award, FFP category
FIRST PLACE, Passionate Ink's 2010 Stroke of Midnight Contest, Sci-Fi/Fantasy Category
FIRST PLACE, SFARWA's 2010 Heart to Heart Contest, Erotic Category
FIRST PLACE, FHTRW's 2010 Golden Gateway Contest, Paranormal Category
FIRST PLACE, Valley of the Sun RWA's 2010 Hot Prospects Contest, Paranormal Category
THIRD PLACE, MARA's 2010 Fiction From the Heartland Contest
FINALIST, ESPAN's 2010 Page One Contest
FINALIST, OKRWA's 2012 National Readers' Choice Award, Paranormal Category