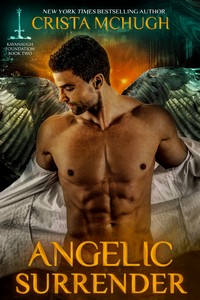 Book 2 of the Derwydd Foundation Series
If the abrupt appearance of Will Vassago on her couch is any indication, knowledge of Anjali's rare ability to see past demons' disguising glamours has spread far beyond the Foundation. One thing that hasn't changed since she accidentally touched him two years ago—his unnerving affect on her hormones.
Officially, Vassago needs Anjali's help to find an escaped Skinwalker demon. He's also got some not-so-official plans for their down time, but if her sensitive gift reveals who he really is—a fallen angel—any chance to fan the embers of desire between them will be lost.
Anjali tries to get their assignment over with before she loses control entirely. With every encounter, the unquenchable fire in her body burns hotter. And Vassago is startled to realize when he almost loses her to the rifts of Hell he has already lost his heart.
Then they discover the Skinwalker is only the tip of the iceberg. If they can't get a lid on the situation, Manhattan will suffer a fate worse than Sodom and Gomorrah, and not even Vassago's celestial sword will protect Anjali from the Angel of Death.
Warning: Contains an OCD demon hunter, a naughty angel with voyeuristic tendencies, bedtime wrestling over who gets to be on top and a very inappropriately used sari.
Also available at iBooks, Amazon
, Barnes and Noble, Kobo, and Google Play.
From Whipped Cream Reviews:
"The author did such a great job creating my ideal hero that I found myself thinking about him for days… Crista McHugh's plot contained everything I love about the epic battle between good and evil… This was the first story I have read by Crista McHugh but with work this skillful it will not be my last." — Peppermint, 5/5 Cherries
From Literary Nymphs Reviews:
"Angelic Surrender jumped off at a quick pace and didn't stop moving until the end, whew! There is a lot of plotting, action, murders and hot steamy sex going on throughout this story… These books, so far, don't have to be read in order but I wouldn't pass up the opportunity to read them." — Goddess Minx, 4/5 Nymphs
From Night Owl Reviews:
"Crista McHugh reinvents a mythic tale full of action, passion and supernatural action… The author creates a fantastical world of angels, demons monsters and humans that draws you in and leaves you wanting to know more about them all. I cannot wait to read the next installment of this series." — PaulineMichael, 4.5/5 stars and a top pick
From Paranormal Romantics:
"Quickly, you're captivated by dangerous demons, brilliant sexual tension, and hot love scenes between one quirky demon hunter and a sinfully sexy Fallen Angel. But that's only the beginning. This story is far more than just the steamy stuff; it has a compelling plot with lots of action too." — Stacey Kennedy, 4 stars
From HEA Reviews:
"The storyline was excellent and filled with just enough mystery to keep me coming back for the third installment. The action starts from page one and doesn't stop until the end. Recommended reading for those seeking a paranormal romance about redemption and acceptance with some major kick-butt demon fighting along the way" — Yadkny, 4 cups