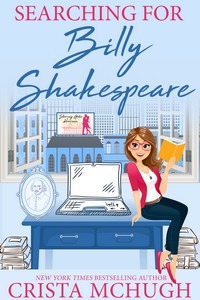 Intensely introverted and socially awkward grad student Kate Mireau has loved only one man since she was a little girl.
William Shakespeare.
Unfortunately, he died over four hundred years ago.
Since no modern-day man will ever compete with the Bard's wit and wisdom, Kate is destined for dissatisfaction in matters of the heart. Besides, any attempt she makes to step out of her comforting world of books usually ends in humiliating disaster. But when she agrees to help her new roommate's brother prepare for an upcoming audition, she meets a man who makes her pulse race almost as fast as Shakespeare's insults. 'Tis said the course of true love never did run smooth, and Kate discovers that Gabe is not an aspiring classical actor–he's one of Hollywood's sexiest leading men.
Experience has taught Kate that she'll just end up embarrassing them both. Will she retreat to her safe world of beloved plays and poetry, consoling herself with the notion that he is a star out of her reach? Or if all the world's a stage, then maybe Gabe is her chance to find there's more to life than just words, words, words.
****
"If you're a fan of quick romantic reads, with a bit of humor and relatable characters, you will never go wrong with anything written by Crista McHugh. Searching for Billy Shakespeare is fun, engaging and endearing." – Vickie, The Reading Cafe
"Wit and cheek galore, flowing plot, and adorable yet believable characterisation, this is a romance to warm your hearts" — Reviewer Christina Philippou
"This was so fun! It's a quick, romantic story of Kate's evolution with a backdrop of Shakespearean references."  – The Neverending TBR
"What a lovely light romance! Searching for Billy Shakespeare by Crista McHugh is a perfect way to relax during the Holiday period… Guaranteed to brighten your day."  – The Word Nerd Reviews
See what others are saying and add it to your list on Goodreads
****
Available in print and ebook at:
iBooks, Amazon, B&N, Kobo, and Google Play.