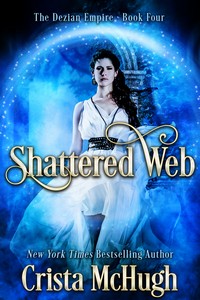 The Deizian Empire, Book 4
This is a novella, which is approximately half the length of the other books of the series
With the birth of the imperial heir days away, Marcus is entrusted with an urgent mission by his best friend, Emperor Titus Sergius Flavus – unraveling the mysterious disappearance of every living soul in a trading post along the barrier. Unfortunately, all the clues point to Sexta, the woman he loved and lost, and despite his better judgement, he can't keep his hands off her.
The daughter of the most infamous courtesan in Emona, Sexta faked her death in order to gain her freedom, never guessing fate would entwine her path with the one man she loved enough to let go. But now that she's been arrested and charged with a crime she didn't commit, Sexta not only has to deny her feelings for Marcus after every tantalizing kiss, she needs to prove her innocence before the true enemy brings the empire to its knees.
Available in Print at Amazon, Barnes & Noble
Available in eBook at iBooks, Amazon, B&N, Kobo, and Google Play.