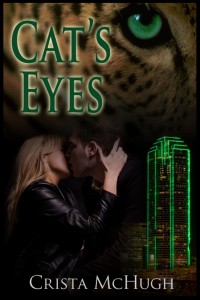 Andy Rodriguez has always desired his partner, Emily Hawkins, but the memory of his former lover's murder five years ago still haunts him. Em doesn't know he's a shape-shifter, and he has no plans to drag her into his world where a war between true shifters and werewolves constantly wages.
All that changes one night when a werewolf attacks Em.
Cat's Eyes was previously released by Liquid Silver Books. It has been re-released by me and is available at All Romance Ebooks, Kobo, Amazon
, Barnes and Noble, and Smashwords.
From  Just Erotic Romance Reviews:
"This was actually a new and different take on shifters than I had encountered previously and I loved it… an excellent plot with oodles of action and suspense. I could not put it down… My biggest complaint which could also be a compliment was that it ended too soon, I still wanted more." Marc H, 5 stars
(It was also reviewer Marc H's favorite E-book read of 2009)
From Night Owl Reviews:
"This is a well-paced, enjoyable read complete with action, suspense, humor, and hot sex… Well worth the time and glad to add Ms. McHugh to my list of writers to follow." Samantha Ann, 4.5 stars
From The Romance Studio:
"In Cat's Eyes, Crista McHugh has created a well-paced story brimming with action, suspense, shapeshifters, weres, lots of witty banter and even more hot sex." Kathryn, 4/5 hearts
From Bitten by Books:
"Crista McHugh has created a wonderful, plot filled, characterized novella. There is a build up, a wonderful explosion of sex, blood and animals, followed by a satisfying ending that will have you going, "awwww"." Booktaster, 4/5 tombstones