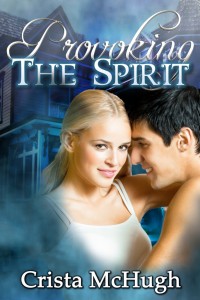 Remy Robicheaux didn't know that when he bought his home, it would come with a ghost. Anxious to get rid of the spirit, he calls his little sister's best friend to help him. Instead of the gawky teenager he once knew, he finds himself face to face with a temptress.
Ainsley Brennen enjoys being an amateur ghost hunter, but when her high school crush calls her  to help him figure out the strange  activity in his house, her feelings for him are resurrected in a way that makes her knees weak. In an effort to get to the bottom of the haunting, she discovers there's more than one way to provoke a spirit.
This title has been revised from its original content and re-released.
Available at Barnes and Noble, Amazon, Kobo, All Romance Ebooks, and Smashwords.
From "You Gotta Read Reviews":
"I've read Crista McHugh's work before, and it just keeps getting better. .. What I enjoyed was some of the role reversal in their attitudes towards sex. You'll just have to read the story to understand what I'm talking about." — Roberta, "You Gotta Read" rating
From Night Owl Romance:
"I loved the twists and turns the author threw at me while I was reading and felt my heart racing in my chest numerous times as I was flipping the pages… Overall, this is a fantastic story that's worth picking up!" — Diana, 5/5 hearts and a Top Pick
From Whipped Cream Reviews:
"Provoking the Spirit… really produces a stunning and entertaining story that manages to be romantic, hot and melancholy all at the same time… Definitely a story worth investigating." — Xeranthemum, 4/5 cherries