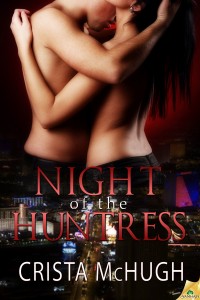 Rule #1: Never let the outside world know the Foundation's true purpose. Rule #2: Never let anything compromise duty. Especially love.

Heart of a Huntress
Lana has learned that successful vampire hunting comes at a price. Which means the yummy stranger who trips all her temptation switches is off limits. Although maybe a one-night stand won't hurt…
Byron's reaction to Lana's aphrodisiac scent has only one, ill-timed explanation—they're mates. He's looking for the vampire who murdered his uncle, plus it'll be hell convincing her to love a fur-and- fang sprouting werewolf. Not to mention her rejection could spell his own destruction…
Angelic Surrender
Will Vassago on Anjali's couch means only one thing: word of her ability to sense demons has spread past the Foundation. Worse, his touch has an unnerving affect on her hormones.
While he needs her help to find a Skinwalker demon, Will also has plans for their downtime. If he can hide the fact that he's a fallen angel from her sensitive gift.
Then they discover the Skinwalker is only the beginning. If they can't contain the situation, not even Will's celestial sword will protect the woman he loves from the Angel of Death.
Warning: Contains a hot and steamy taxi ride, wild sex you want to sink your teeth into, an OCD demon hunter, a naughty angel with voyeuristic tendencies, bedtime wrestling over who gets to be on top and a very inappropriately used sari.
Available now from Barnes and Noble, Amazon
, Samhain Publishing, and other fine retailers